Well this Ride was due from very long time. Actual planning started 3 years back and due to my marriage and other personal commitments it was not possible that time but finally executed this time.
So me and Remo made rough plan for 2 weeks and we were pretty sure that total number of riders on this ride must and should be less than 4.
when last time i went to Leh its almost 5 years back and that time we had 10 riders and lesson learnt from that trip made sure that we ride with less ppl.
Now plan was simple and we kept it dynamic [change anytime with/without reason] and first we start from Chandighar and cover Spiti Vally and then venture in to Leh area and ride back all the back to Bangalore. Pretty simple Ha..
As with all perfectly planned Trips there should be some un-expected road block and this story also have some ...
This journey has Action,Adventure,Friendship,climax,Villains ....everything .. so Relax and sit back and enjoy this amazing Journey with me ...
Trailer :-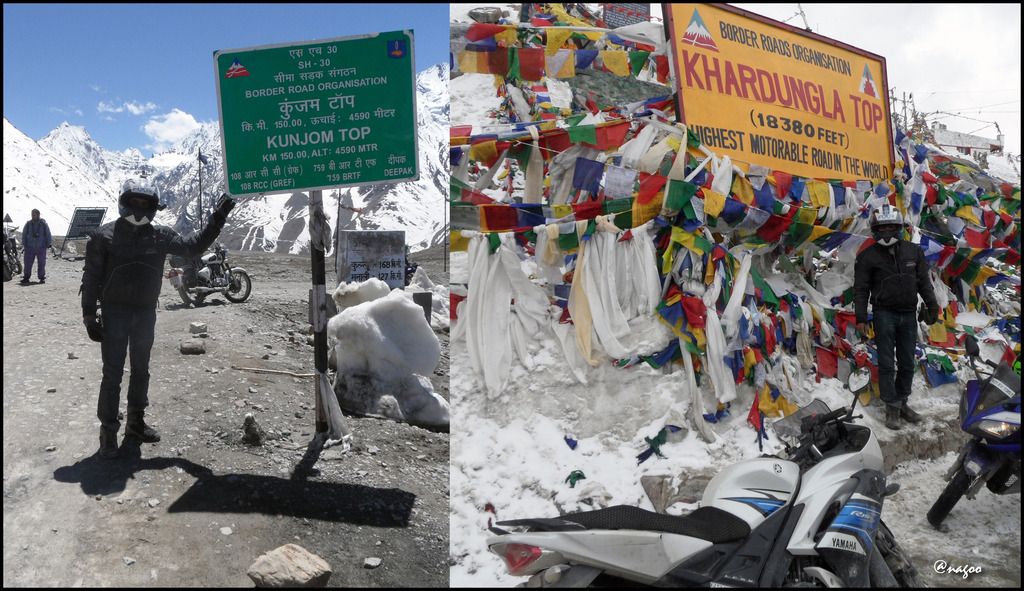 Planning :
As i said earlier plan was simple without fixing destination with dates and we kept it dynamic , ready to change anytime and anyplace
Remo and I both did quick shopping for helmets and few other needed things and were ready for journey.
Now we had exact 18 days from start Day.
Oh Did i Mention that My Bike is Just 3 months old and just did 1st service after Run-In :P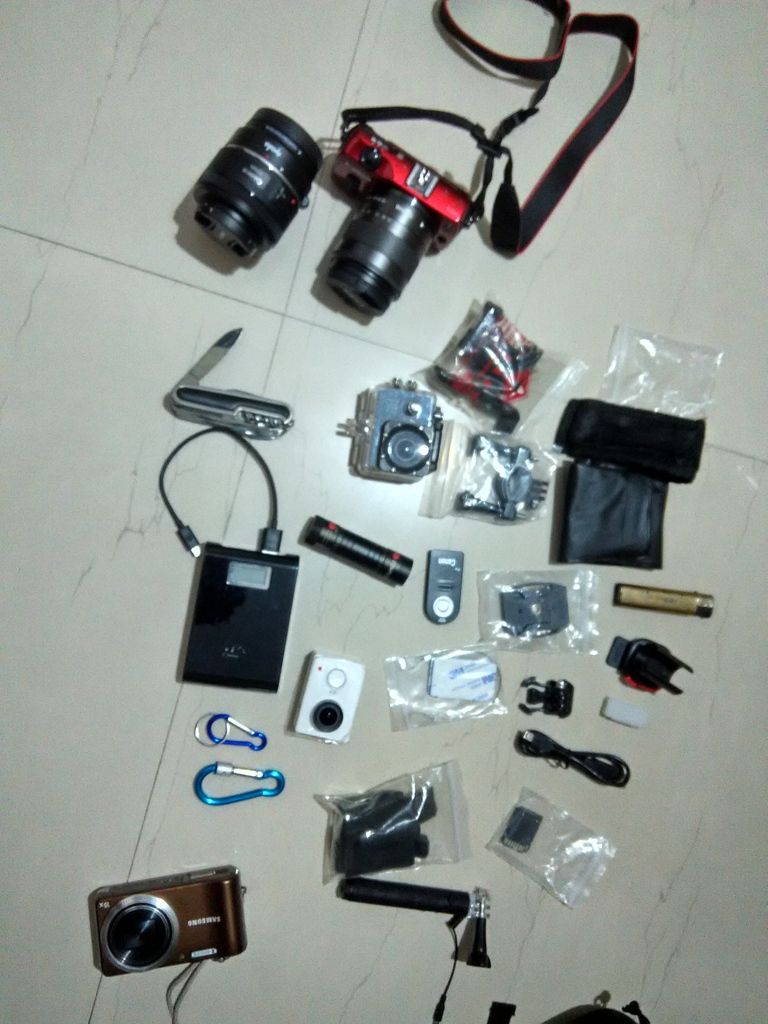 Both Bikes were shipped 10 days earlier via Gati kwe Road transport from Bangalore to Chandighar, they charged per bike around 6.9k.
i should mention that the all the people of Gati were very helpful and bikes reached in 5 days and were kept in there store room till we reached
there and took the bikes , there were not much damage except Remo Clutch lever broke. and they [Gati] didn't even charged for keeping bikes in there
store room for almost a week.
-----------
Before starting , lets give you quick summery
Days :
18 planned
Route Taken :
Chandighar-shimla-Tapri-sangla-chitkul-Tapri-Reckong peo-Nako-Gue-Tabo-Dhankar-Pin Vally-Ka-Kaza-Kibber-Key-Losar-Kunjom Top-Losar-Kaza-Tabo-Rampur Bhushair-Jalori Pass-Kullu-Manali-keylong-baralacha-sarchu-Tanglang La-Leh-Khardung La-Leh-sarchu-keylong-Manali-Mandi-Chandighar-Agra-Nagpur-Karnool-Bangalore
Most Difficult pass :
Jalori Pass
Spiti Road Condition :
Very difficult and no roads, exactly like Leh 10 year before
Leh Road Condition :
Very Easy and like any highway fully Tarred except 30km b/w Baralacha and Pang
weather conditions :
47 degree to -4 degrees
Traveled Dates :
18th May to 5th June 2016
Total cost :
21,000/- INR per person [all including], excluding flight.
Total Distance covered :
5500+km
Number of riders and bike :
2 both R15
Hotel stays :
90% all stays done in Govt Guest houses Rest Thanks to GoIbibo
Pics & Videos :
80% video , 20% pics . [entire journey captured on video , soon will post in parts total 1:30 hour, no other video needed to visit Spiti complete coverage including roads and places]
Pics & Video Credit:
Myself [Nagoo], Remo, Prince Thakur
Now you got quick idea , lets start .......
Day 1 & 2 : The begining [Distance covered = 65km]
Both of us were very excited and quickly reached the airport , we had min luggage and plan was to reach chandighar and start journey immediately as our bikes already reached Bangalore to Chandigarh a week earlier and don't wanted to waste time. everything was perfect untill...goofup in our flight which created delay of one whole day to reach Chandigarh and we had to travel via Mumbai-Delhi-Chandighar and not to mention spending whole night in Delhi airport.
anyway after this initial problem, we reached Chandigarh around 1pm next day, quickly went to Gati store room which is 30km from airport and quickly checked the bikes for damage , thankfully only my side stand was bent and Remo bike clutch was broken.
Now comes the real stupid thing which i have done, Its the Bike key which i lost somewhere in the Bag and after checking whole bag couldn't able to find it.
Well i thought No panic , just visit the Yamaha show room and get the mechanic and replace with new keys , Hence i took Remo Bike which had its clutch broken and barely holding the clutch cable, and went to Yamaha showroom , Here now meet the first Villein of the story , its non other than Yamaha.
In entire Chandigarh-mohali there was only one Yamaha showroom that too closed down permanently. Think our situation , we are already late by one whole day and stranded in Gati store room without bike key for one bike and without clutch on other bike.
after checking with local people comes to know that Yamaha showroom owner shifted the showroom to DSK hyosung , took another hour to search the place and finally met the service Engineer who earlier use to work on Yamaha , after lot of requesting he was able to get one clutch lever and fixed Remo bike. but still my bike Key problem remained , went back to Gati store room and after checking in near by [sector 15] market was able to find one duplicate key-maker that guy took almost 3 hours to make duplicate key without original key and took me allover Chandigarh to get his stuffs.
the whole time the temperature was around 47 degrees and we were totally tiered as we didn't had food from past 35 hours. when we finally started the journey forward it was already 6pm in the evening , and when we thought everything bad is over ... un-expected happened . just as we started bike and head towards highway a strong wind and heavy rain started pouring , i thought myself definitely its not a good start.
first Flight delay , second No Yamaha showroom, Third No bike key and now this ???
Well only good thing happened is , the rain brought-down the temperature. we had to halt in Solan which is just less than 100km due to real fatigue.
No pics for the day ....
Day 3 : Fresh Start [Distance covered = 240km]
Things settled yesterday and morning we woke up in good mood, and decided to push as much as possible to regain lost time. start was good and with regular breaks we were able to reach Tapri by evening. we then decided to ride further and reach our destination - Chitkul but held back due to suggestion from few truck drivers as there is good chance
that stones will fall from mountain at night due to heavy wind and its good decision.
So we decided to halt at Tapri Govt guest house to end the day.
Day 4: Last village on Indian Side [Distance covered = 66km]
we Started early after tankup at Tapri village and headed directly to Chitkul, Its the last Indian village on this side of border and its beautiful and very popular tourist attraction. but in honest my suggestion is , if you travelling further towards Kaza then you can skip this place.
we visited last border checkpost and as we were halting for the night in chitkul, we started to roam around the place, we even hiked opposite small hill and it was difficult to hike as its high altitude and steep. suddenly the weather changed in less than 10 min from sunny to deep cold showers of rain and as we were in plain cloths, the cold was un-bearable and pushed us to retreat towards back to village
Lesson learnt , is that always be ready with warm cloths. the night spent shivering inside warm blanket.
Day 5: Towards Road ahead [Distance covered = 151km]
Today's goal was to Reach Nako village, and before that do some quick shopping for warm cloths in Reckong Peo, due to yesterday's cold experience we don't wanted to take a chance further.
Stopped at Reckong Peo for Lunch and brought some warm cloths, and started towards Nako. Roads were started getting pretty bad, infact there are no roads at all, moreover what ever we call roads were turned in to rubble of mountain rocks as BRO working on widening of the roads till Kaza.
Ride was challenging and in one place has to wait on road side due to a BRO bulldozer[earth mover] fallen on the slope of hills and roads were blocked to retrieve it.
Reached Nako in the evening and Here something interesting happened , as we finalized our stay, Two more guys [Prince & Aarshdeep]come to us asking about stay options and they were from chandighar and riding on Duke and bullet, they stayed in same homestay next room and within an hour became best biker buddies. till we completed our Spiti ride , we all rode together and became best friends.
evening spent on visiting Nako Lake or i can call it as pond and exploring Nako village to end the Day.
Day 6: Busy Day [Distance covered = 150km]
Started From Nako and now with our 2 new friends [Aarshadeep sing,Prince thakur] our pace was decent. our first place to visit was Gue Mummy Lama Temple which is around 45km from Nako and its roads are pretty bad and dangerous, Here we encountered first shooting stone incident. just 10 feet ahead of us , a pile of rocks hurling down the hill towards us made things very tense and scary. it forced us to retreat and take a break before starting the journey again.
Gue Mummy lama temple is situated on top of hill and its surrounded by might himalayas , the place is really worth the visit. near the lama temple a thousand year old mummy kept in glass.
Next stop was Tabo Monastery , again coupled with bad roads the journey is tiring but also rewarding with magnificent sceneries. a quick stop at Tabo given us enough energy and break to proceed further towards Dhankhar Monastery.
Dhankhar Monastery is situated at high elevation and one needs to climb many hair pin bends to reach , the view is really worth the effort after stop over in Dhankhar we suddenly decided to visit Pin valley , which is a detour of 60km from Dhankhar.
The roads to Pin valley is almost non-existent and with big rocks and loose sand its almost very difficult to keep the speed constant. again this stretch is very wonderful views. finally we decided to end the day by opting to stay in Kungri village , we are able to get Govt Guest house.
Day 7: Fist Destination Reached [Distance covered = 70km]
Day Started with sudden plan of visiting "ka" village , its the last village pin vally from this side where all roads will end. but things got bad with one of our friend [Aarshadeep] getting very sick and was unable to move due to food poisoning and continuous vomiting. So we decided to leave him in his room so that he can take some extra rest and we headed towards "Ka" village.
Its a small hamlet with just few houses and one can see roads ending to that place and start of Pin valley national park. after spending an hour there we headed back to room.
we Woke Aarshadeep and provided couple of ORS packets to boost his energy and started towards Kaza. ride was slow and Aarshadeep finding it difficult to ride with almost no energy in his body, he already vomited many times during this small ride towards kaza. we reached Kaza and took one Govt Guest house for stay.
Leaving Aarshadeep in room to get some rest we headed towards Kibber , the high altitude village in the world where motorable road present. the ride itself was exciting and nice roads added the pleasure of riding with chill winds and awesome scenery.
Kibber is very small village but its very beautiful, after crossing Kibber one will find dead end where one Bridge is under construction and its called Chicham bridge. its connecting the Chicham village which situated across the canyon. villagers need to cross the bridge by sitting in basket which then pulled from the other side.
Next we visited the Key Monastery which is almost 2000 years old, Remo took full tour of the Monastery while me and Prince roamed outside the Monastery.
We headed back to Kaza as its started getting late, once we reached room we found that Aarshadeep was not there, later we came to know that he's been admitted to Kaza hospital as his condition worsened and we went to hospital to see him. later by 11pm in the night we brought him back to room by that time he was in good shape. after couple of glucose bottles doctor advised him to stay away from spicy food.
Day 8: Road Block to Heaven's Gate [Distance covered = 224km]
After Yesterday's Hospital visit our friend was feeling pretty good and he insisted that he will start riding. We decided to go towards Kunjom pass and after crossing it will reach Chandratal for the day end, and next day will reach keylong from there. BUT all our plan going to be up-side-down in few hours and we did anticipated that. Basically one needs to cross Kunjom pass in order to reach Leh side and if the snow is still present in Kunjom pass and its not yet cleared by BRO then there is no way to cross the pass and instead one has to trackback all the way till Rampur. as no one in Kaza 100% sure about the pass open or closed , we decided to check our self and started our journey towards it. our first stop was to Losar village, its the coldest place or village in Spiti vally and the last village before the Kunjom pass. The roads are worst and very risky, but once you reach the Losar village you will forget everything as the beauty of the place takes high precedence. its literally the most beautiful village on this side of the world.
After quick break in Losar we headed to Kunjom top and the pass , well here roads were the biggest enemies , first of all there are no roads and adding to it was melting snow which made whatever sand/rocks loose and hence there is no traction on road.
we rode till dead end where BRO was busy in clearing the 6feet tall snow and it was end of our dreams of crossing over to Leh from this side. Now we dint had any other options than to cover additional 600km distance to reach same spot [keylong] instead just 150km. but ride must go on , so didn't wasted any more time, we all decided to push for the day and set a goal of reaching Tabo for night halt.
Continuous riding and less breaks helped us to reach Tabo and it was already 8pm when we reached Tabo, after a quick round we were able to find a decent stay and food
the night spent with few Astrophotography and deep sleep.
Day 9: Towards LEH [Distance covered = 349km]
We said good bye to our two friends Prince and Aarshadweep and headed towards kullu, we decided to take shortcut which passes through Jalori pass the accent to the pass is wonderful with good roads and un-matchable beauty of nature, once we reached top the roads became narrower and later it vanished completely instead we faced toughest pass in our life, with decent is sharp and loose gravels coupled with narrow passage along comes big rocks. we were so frustrated with the pass that we didn't even stop to take any pics or videos. so now you know how irritating this pass is , even Kunjom pass looked like kids play here.
After crossing the Jalori pass we took good 2 hour break to recover then headed towards Manali , roads after the Jalori pass all the way till Manali were excellent. Reached Manali around 4pm and decided to push to Keylong , while Remo standing roadside with bike i went to SDM office to get the Rothang crossing pass and it took me almost an hour to get the pass. we are the only 2 bikers who were crossing the Rothang pass in the evening.
we almost raced to cross the Rothang pass, luckily the roads were like national highway and our R15 loves good roads, in no time reached the top, but didn't stop there
and just kept riding. we met few bikers who are planned to reach keylong and head back to Manali next day. we road together till keylong.
Reached keylong and found a stay after facing few hurdles like road blocked by a Lorry accident and few issues with our new friends rented bullets [no surprise here]
when we went to bed it was almost 11pm, but we were happy to cover good distance today.
Day 10 - Towards LEH - 2 [Distance Covered = 359km]
We started from Keylong early and planned to reach Leh that day, The start was good and Roads were awesome. we reached Baralacha in no time and entire peaks surrounding it was covered in white snow and the Lake [suraj vishal Tal] was completely frozen from Ice. thankfully its midday and sunny , we didn't feel that much cold. we took break on top of the Baralacha and spent some time there. Getting down from Baralacha was fun, and once reaching Sarchu we took lunch break. the roads from Here till Pang were in semi-bad condition and in a year or two max these also will be properly built.
Most enjoying part of this journey is Moori plans , its almost top of mountains and 80km flat stretch with super good roads , this is the place i was ripping my bike and riding 120kmph speed. as soon we started our ascent towards Tanglang-La we started feeling chillness in air and just before the peak summit we are shivering like rabbits both my hand fingers lost there sense and i could found myself very difficult to squeeze the fingers to apply break/clutch. the cold was un-bearable so much that i couldn't able to stop for pics also. it took us almost 2 hours to recover once we reached the hotel near the base.
after 2 hour recovery break , we headed towards Leh city and as roads were great we didn't find it difficult to reach Leh by 10pm night that day. quick searching and found a room near Bus stand to end the day.
Day 11: Khardung-La - Worlds heighest Motor pass [Distance Covered = 350km ]
We woke up late and got ready by 9am in the morning , Today's plan is to Visit Khardung_La. Starting Early is always advantageous there was not much traffic and good roads ensured that we reach the first pit-stop just short of 4km from the peak. already too many cars/bikes were there [tourists] and it started to snow very lightly adding to that cold was the road condition which is worse till the peak. reached the peak and had good break to take snaps. well at this point i have share the truth behind visiting Leh after Spiti vally , believe it or not all this Leh riding was for just one Pic in-front of that Khardung-La Board which stats your at world highest motorable road, and this was Remo condition for joining the Ride :P .
We were back to Leh town by 1pm and suddenly decided to head back, and hence the return journey begins. No more site-seeing , no more Nubra, No more Pangong lake, its just ride back. we rode hard and fast and able to reach Sarchu for the night stay. Have to admit the last 2 hour ride to reach Sarchu was really pain in the A** .... was too tiered. Hence the day ended pretty busy.
Day 12: Fun on Road [Distance Covered = 353 km]
Morning was very cold , when we stepped out water was freezed and after breakfast when we started riding towards Manali, we could see that water on road freezed to ice and as Baralacha climb was filled with such ice sheets on roads our pace was very slow and careful not to skid. Visiting Baralacha 2nd time in 3 days didn't change much there , infact there was little more snow than 2 days back.
we kept riding till keylong and then we took break for lunch , now climbing Rothang Pass was easy as from reverse side the roads already been cleared and clean. once we reached top , surprisingly there is not crowd at all, as Tuesday's no tourists will be allowed from Manali side. Hence our decent from Rothang pass was wonderful without any traffic.
we decided to Head further and stay at Mandi for the day, but pushed furthere and reached Sundarnagar for day Halt.
Day 13: Fun with Friends [Distance covered = 171km]
We started from Sundarnagar and by the time we reached Chandighar it was around 12 noon, and temparature is soo high that we are feeling very dehydrated and sweating heavily, decided not to go further and called up our new friends who we met during last week Kaza ride , Prince and Aarshdeep both invited us to there home and we are more than happy to say yes. we decided to stay in Prince house and evening we roamed around Chandighar and had lunch with them.
No pics for the day :(
Day 14: Road Runner [Distance Covered = 478km]
We started very early from Chandighar and reaching Delhi was no problem, BUT actual problem started from here , we decided to take Yamuna Express way to reach Agra and the whole streth is barren land without any shade or much of hotels, although its super highway but riding in that heat made us super tiered and with contineous riding we are able to reach Agra at around 3pm.
Used goibibo to book hotel and had quick freshup and headed to visit Taj Mahal. we felt Agra is not much clean city and there are thousands of people who came to visit Taj Mahal made thing busy.
In my personal opinion Taj Mahal looks stunning only in Pics and Videos, In person its not that much attractive [or may be its due to heat ware and weather made us to think like that].
Day 15: Longest Ride [Distance Covered = 837km]
Decided to Ride Agra to Nagpur , as this was not option but necessity and we don't wanted to ride hard on last days of the ride. roads were smooth and excellent, its 4 to 6 lane highway all the way and riding was perfect. the only problem was the heat wave and heavy sweating due to hot weather. can't count how many stops we made and how many cans of water, softdrink and lassi we had. finally we made it to Nagpur at around 8pm and again used goibibo to book rooms which is easy and cheap.
Day 16: Another Long Ride [Distance Covered = 734km]
With good roads and early start we were able to push till Kurnool , once we entered Andra the temp was pleasant and we were happy to ride in good pace.
we reached kurnool around 8pm and again used goibibo app to book hotel with good discount.
No pics for the day
Day 17: Trouble everywhere [Distance Covered = 400km]
We were very relaxed today , as we knew today will be our last leg of journey and planned to reach Bangalore by Afternoon. and Started in relaxed mode. after covering some 150km , i overtook Remo and started riding fast. we usually keep tab of riding behind us and if we didn't see rider coming behind in mirror for long time , we slow down or stop till they come closer. and as i overtook and starting riding fast i didn't see Remo in my mirror for long time. and i stopped and waited for him for 20 min still there is no news of him. i took Uturn and started riding slowly back, then i got call from Remo stating that his bike has some problem and not starting. i reached him eventually and after checking his bike decided to tow the bike to Ananthpur.
once we were in Anantapur we came to know that engine got seized due to lack of engine oil, things turned out bad, so we decided to tow the bike all the way to Bangalore. now already we spent lot of time for this seized bike. and after quick discussion we decided that while Remo will come along with bike in tow truck and i will ride ahead and contact yamaha showroom and request them to open till the bike arrived. thankfully when i reached yamaha showroom directly it was 6pm and after requesting them they agreed to wait.
finally Remo dropped the bike in showroom and our most adventurous journey came to an end.
We took video of complete journey and finally able to compose the video yesterday. you can find everything in that video the entire road conditions, places , weather, trouble we faced all . Do enjoy the video and plz leave comment on Youtube.
Complete Pics which includes the non-posted pics :-
https://picasaweb.google.com/113767224399338082522/6296813823594152769#
.